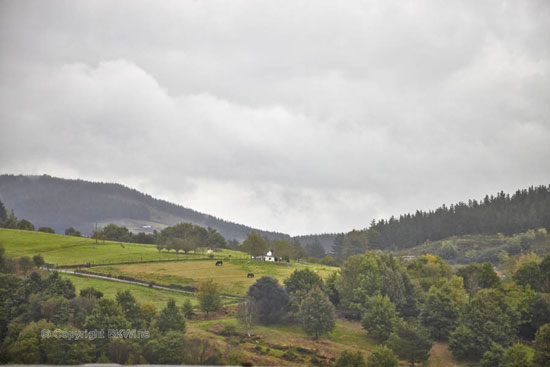 The moment my navigation system announced that we had reached our destination, I knew that we were in the wrong place. We would not find a winery in this residential street on the outskirts of Gernika! It took us half an hour, three local informants and a lot of driving up and down road BI 365 to find the actual location, and to be honest, that turned out to be even more unlikely…
After a drive through very green but mist-shrouded and rain-capped mountains, we really wanted to find Bodegas Itsasmendi, and fast. We only had about 1,5 – 2 hours left for our visit before we had to be at Bilbao airport. The winery, one of the best in the Basque  appellation of Bizkaiko Txakolina, as some guide books say, finally turned out to be next to a bar, tucked away at the back of a building that also houses a gas station. Even when I got out of the car, I was still in doubt. But the smell eventually convinced me. Standing in the rain, on a small industrial area just outside of Gernika, the smell of fermenting grape juice was unmistakably present. And behind a row of trees, we discovered a small plot of vines.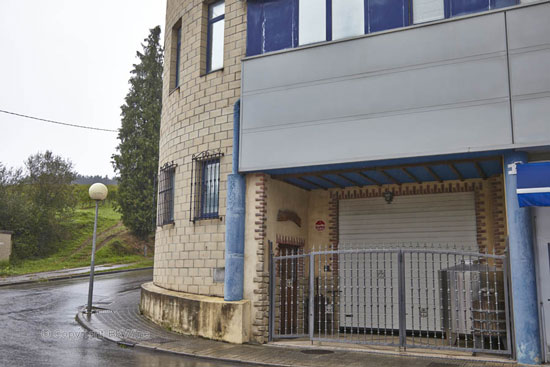 Inside, we were warmly greeted by head of administration Maite Zabala, with whom I had made the appointment, and Bingen Mendizabal, head of production. Bingen explained us about the winery and the group of wine growers that in 1989 decided to bring back the once famous wines of the area, Txakoli, and invested in land, equipment and research to make that possible.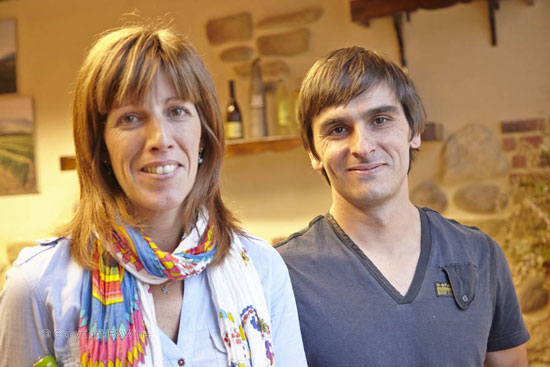 The Mountains by the Sea
The name of the winery refers to the mountains by the sea where the vineyards are found, some 30 hectares in total, spread over 17 locations: 'itsas' in Basque means 'sea', 'mendi' means 'mountains'. It was a real pity we did not have time to explore the area more and see something of these beautifully located vines close to the Atlantic Ocean.
A big influence on the wine making in this area are both the soil and the climate, Bingen continued. Whereas wine makers cannot do much about the rain – between 900 and 1200 mm a year – or the sun – average sunshine is 1950 hours – the soil of the vineyards is something they can influence. Not by manipulating what is, but by extensive survey of each particular plot of vineyard, to decide where the grapes ripen best. Even multispectral photography is used to get information about the different plots. From 1990 until 2011 these studies have continued, and from 2006 Bodegas Itsasmendi even worked together with the Basque Government to classify all the ingredients found in the vineyards: soil type, top- and sub soil, elevation, microclimate etcetera. In this way, they have created a detailed map of all the vineyards, and can determine which grape variety grows best where, and what time is best to harvest  for each plot.
The main varieties grown are the local white grapes hondarrabi zuri and hondarrabi zuri zerratie. For red wine, there are pinot noir and hondarrabi beltza. Both are used in a blend called Eklipse. On average, some 300.000 bottles are made each year, but the climate can have a real influence on the quantity. This year, due to lots of rain in spring, production will be considerably less. Organic grape growing is out of the question here in rainy Bizkaia, but in the cellar treatments are limited to an absolute minimum.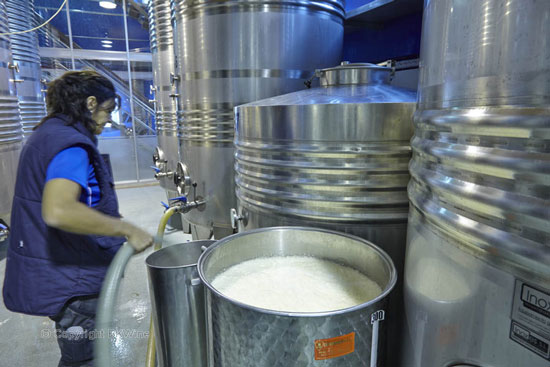 Small but Organized Facility
After Bingen's very informative introduction, we had a quick look at the small but organized facility, with stainless steel tanks, state-of the art presses and other equipment, and a tiny barrel room. Upstairs, the real treat was waiting for us: four wines, that formed a very fitting end to our few days in the North of Spain, at the DWCC in Logroño. We tasted the basic Txakoli Itsasmendi from 2012, two vintages of the wine called Itsasmendi 7 (2011 and 2012) and a late harvest Txakoli, Itsasmendi Urezti. Since I only knew Txakoli from a bad experience in Barcelona years ago – sour, thin – these wines were a real and very pleasant surprise.
The regular Itsasmendi was clean, full of fresh acidity, delicious and fruity. A wine you can pour me any time on a sunny terrace, (or a rainy day…) with seafood or on its own. But it was the Itsasmendi 7 that really blew us away! Bingen opened a 2011 next to the 2012: these Txakolis can age, was our conclusion after tasting! The Itsasmendi 7 is full bodied,  has delicate aromas of peach and apricot, a delightful acidity and displays a very long minerality. Nr. 7 (7 is the number of the tank the wine was first made in) is allowed to remain for six months on the lees and is made with 20% riesling and 80% of different hondarrabi varieties.  I would have loved to have taken a dozen or so home, especially of the 2011.
To finish off we tasted a late-harvest wine, made with hondarrabi varieties and gros manseng (after all, the French region famous for sweet wines from gros manseng, Jurançon, is just across the mountains). This experiment of consultant-oenologist and wine maker Ana Martin Onzain is produced since 2001, in a very limited release of about 2.000-3.000 bottles. The grapes are left on the vine until November, so only the warmest and driest spots qualify for this wine. The wine receives a ripening in oak barrels for approximately 45 days. It has a very good balance between sugar and acidity.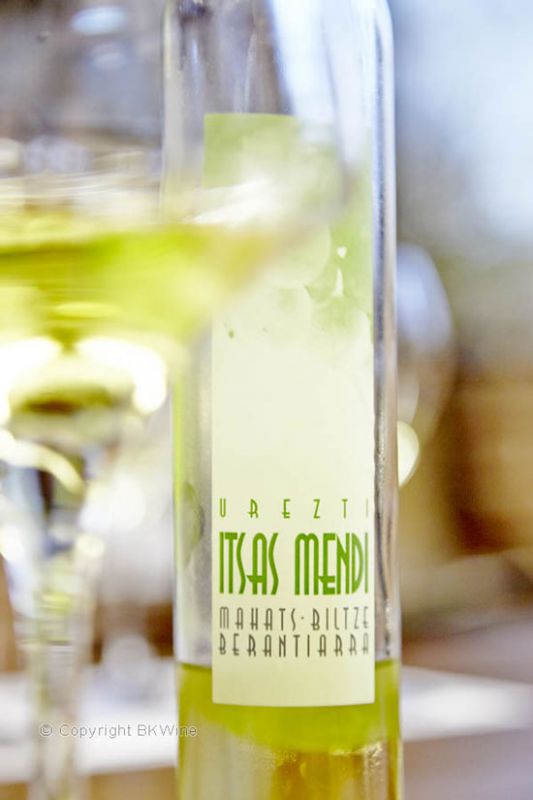 Only 30 minutes later, we had left the green mountains of Bizkaia behind and entered Calatrava's modern terminal building on Bilbao Airport. I looked for a glass of Itsasmendi in the bar, but had to settle for a beer. Soon, the news of a storm up in the Netherlands and Scandinavia took our minds off the wines. But I promised myself: I will go back!
Bodegas Itsasmendi exports to several countries around the world. In the Netherlands, the wines  are only available in restaurants.
Photography
Copyright Per Karlsson, BKWine, who runs wine tours at BKWineTours.com and writes on wine on BKWine Magazine.
My own pictures of Bodegas Itsasmendi are on Flickr.