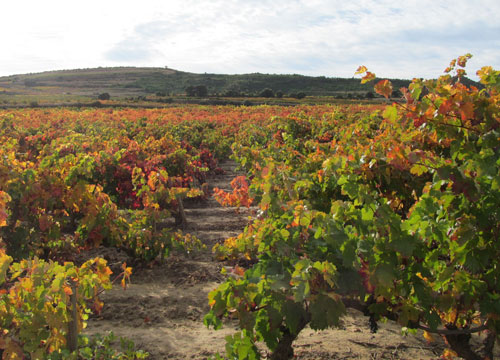 The theme of the sixth Digital Wine Communications Conference (DWCC), held in Logroño last October, was 'Exploring Flavour'. Flavour in wines, of course, and the ways in which flavour is imparted. But also of how we perceive flavour, and the subjectivity of that. One of the speakers on this topic was Tim Hanni MW; unfortunately I missed his talk. But I was told all of his thoughts are in his book Why You Like the Wines You Like, so that book is now waiting on my iPad to be read.
More flavour was to be experienced in different tastings and stands, like the one from Andrew Quady, the Californian wine maker who specialises in sweet wines. I will write about his wines later. And of course there were the flavours of La Rioja, our host region, both red and white, old and new. I will come back to them too, later on.
Wine Mosaic
One of the highlights of this conference for me, however, was the Wine Mosaic Grand Tasting: an exploration of ten native Iberian varieties, each with their own particular and unique flavours, chaired by Julia Harding MW and Dr. José Vouillamoz, together with Jancis Robinson co-authors of the book Wine Grapes.
The tasting was adopted by Wine Mosaic, a project started in 2012 by Frechmen Jean-Luc Etievent, Fanny Basteau and Arnaud Daphy. It is a not-for-profit association whose aim is to preserve and promote original grape varieties of the Mediterranean, and to champion vinodiversity, by bringing together those who share the project's aim to create an information network via which members can source tools and assistance to make wine from original grape varieties. Of course it is also targeted at bloggers and writers, to raise the awareness of these grapes and wines. Instead of the 20 or so major grape varieties that dominate 80% of the world's wine production, Wine Mosaic acts on behalf of the other 20%, the grape varieties that are only produced by one or a handful of devotees, and are key to the understanding of the history of wines, vines and grapes. The Wine Mosaic founders were present during the three days of the conference, at the Native Iberian Varieties Grand Tasting and on a Wine Mosaic stand, where they were pouring wines made exclusively from original grape varieties, from countries like Italy, Portugal, Greece, Spain and Turkey.
Callet and Maturana Blanca
During this Grand Tasting of Native Iberian Varieties, ten different wines from Spain or Portugal were presented, all from a lesser known or almost extinct variety. The list consisted of the varieties vital, antão vaz, jampal, albilla de machuela (or rather albilla de albicente), tempranillo blanco, maturana blanca, alverelão, hondaribbi beltza, touriga fêmea and callet. All wines were introduced by either Julia Harding or José Vouillamoz, with information on their pedigree, maker, place of origin etcetera.
My personal favourites? The Callet 2012 from producer 4 Kilos, a ripe red wine from Mallorca tasting and smelling of fresh plums, and the Maturana Blanca 2011 from Viña IJalba, a very aromatic white wine from La Rioja. The variety was already famous in 1622!
Turkish varieties
I enjoyed more exotic flavours at a very special small tasting of Turkish varieties, some of them not even mentioned in Wine Grapes. They were brought to the conference by winelover Umay Çeviker and shared with an interested group of wine bloggers and writers: Jim Budd, Simon Woolf, Elisabeth Gstarz, Levon Bagis, Julia Harding, José Vouillamoz and myself. Place of action was a hotel room near the conference, with dust bins lined with plastic bags for spittoons and seats on beds and sofas. Umay had prepared a very well researched brochure for us, mentioning all of the Turkish wines he brought, their varieties, makers, place of origin and little history. Apart from the interesting and very different flavours that we encountered, one of the things that struck me most was how much history of wine is still tucked away in little corners of Turkey. History that only comes to us thanks to the stories of people with a passion for wine or grapes, and communicators like Umay.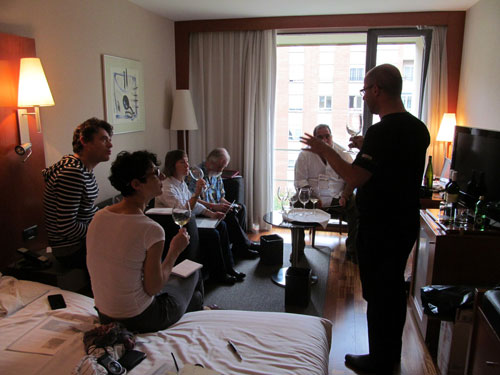 Here is the story of  father and son Turhan and Erhan Özçanak for example, local car dealers in the town of Merzifon in Northeastern Anatolia. Father and son attempted to revive a local grape variety, abandoned and lost to memory for decades. They didn't know much about wine and winemaking when they started, only the names of the Armenian families involved in the winemaking in their town in the first quarter of the 20th century, or the commercials of local wine producers advertising on the local radio in Erhan's youth. After the expulsion of the Armenians from Turkey, in 1923, almost all knowledge of wine production disappeared, not only here, in this region, but also in the south of Anatolia, and only recently here and there interest in old abandoned vineyard plots has started growing again. The Özçanak family has tried for seven years now to work the vines, with some support of local authorities and help from other families, but recent developments in Turkey have made things rather problematic. Despite the fact that they have propagated new cuttings from old vineyards and have distributed 25.000 vines on 20 hectares already, they are now about to abandon their efforts if nothing changes. Their plans for a commercial enterprise are victim of Turkish policies with regard to alcoholic beverages.
The flavours of history
The grape varieties we tasted were kuntra (karasakız) from the island of Bozcaada, acıkara, from around Antalya and gaydura, propagated by Urla Winery, a producer we visited last year during the DWCC conference in Izmir. Further: çalibağ, tilki kuyruğu, kösetevek and mersifon karazı. It is difficult to point out a favourite, because some wines were just too young or not well made, whereas others were an acquired taste. But the fact that people try and want to preserve the taste of history and to preserve diversity, that really counts for me, and I hope that wineries like Urla, Yunatçılar Şarapçılık (of the plummy wine made with kuntra, Çamlibağ), Likya and Kayra will succeed in making wines from those rare and special grape varieties.
The three days of the conference meant a real exploration of flavours, and has given food for thought and inspiration for many weeks and months to come. A big thank you to the organisers for again bringing together such a tasty and flavour-loaded bouquet of experiences! And another big thank you to Umay and José, for inviting me to taste the series of Turkish wines!
An impression in pictures of the many flavours of the conference, you can find on Flickr.