Last week, I presented my five favourite Valais white wines. But if you are more into red wines, this Swiss wine region can provide those too! Red grape varieties used are syrah, pinot noir, gamay, rouge du pays and cornalin, among others. Most white wines in Valais are made of only one variety, but with the reds, there are several delicious blends as well. The best known is Dôle, which was exported to other countries already in the 19th C. In fact, Dôle and Chasselas (or Fendant) are the two best known Swiss wines outside of the country. With the reds, I tend to like the blends more than the varietal ones. On the other hand, the wine that really blew my mind, was a wine made of one single grape variety…
Simon Maye & Fils, Syrah Vieilles Vignes 2010
The biggest surprise among the Swiss reds, for me at least, was Syrah. And at Simon Maye & Fils I tasted my Syrah of Syrahs! I always think of Syrah as a big bold wine, but this one from the Swiss part of the Rhône Valley was elegant, slim and very, very drinkable. With the familiar spicy notes, including the pepper. With the familiar fruity tones, of blueberries and blackberries. But much more elegant than the French examples I have tasted. How well these Swiss Syrah's can age, was proven by a Vieilles Vignes 1992: still lots of lively fruit, with subtle notes of tobacco and spices. No wonder in 2007 the Grand Jury Européen awarded the Simon Maye Syrah Vieilles Vignes 2001 first place, over a 2001 Côte Rotie by Guigal, the famous La Turque.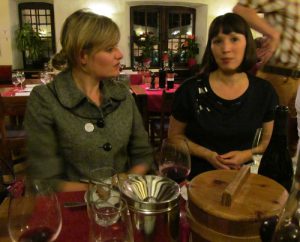 Vin d'Oeuvre (Isabella and Stéphane Kellenberger), To Die For Gamay 2013
I am a big fan of Beaujolais, and the grape variety that it is made of, gamay, is well known to me. As it turns out, the Swiss can do wonderful things with gamay too. The young couple that founded Vin d'Oeuvre in 2013 is already mentioned in every national wine magazine. With their Gamay To Die For 2013, they won this year's first price in the Grand Prix du Vin Suisse. I have to admit that I took no tasting notes of this wine. I just remember it as very good, having tasted it on a night of raclette, wine and lots of fun.
Domaines Rouvinez, Le Tourmentin 2011
Not the cheapest wine on my list, but all the same, try it if you have a chance. A blend of pinot noir, syrah and two varieties from the Alpine wine regions. The winery describes them as cornalin and humagne rouge, a grape specialist would say rouge du pays and cornalin; but in this article I won't bother you with that confusing story. If you're interested, check both entries in Wine Grapes. More important for now: the wine goes very well with game or grilled meat. It is a powerful, full-bodied and well-structured wine, that was aged for one year in barrique.
Domaine des Muses, Terpsichore 2010
Another delicious red blend, by master of red wines Robert Taramarcaz of Domaine des Muses. Two grapes typical for Valais, the same cornalin and humagne rouge as in the Tourmentin, have been blended to an elegant and fruity whole, with very exciting aromas. There is a parent-offspring relation between the two grapes. As grape-geneticist José Vouillamoz repeatedly told us during our visit to Valais: an assemblage of grapes that are closely related almost always delivers a good and balanced wine!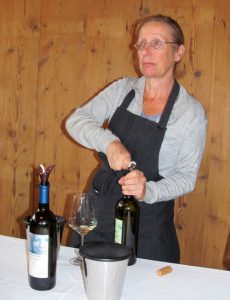 Marie-Thérese Chappaz, Dôle La Liaudisaz 2013
Every country has its living wine legends: in Valais, Marie-Thérese Chappaz is one of them. I still have to learn a lot about natural wines, and it is not always that I like drinking them. But this very lively Dôle, especially designed for drinking with friends, certainly belongs on my list of wines to want 'après ski'. Mme Chappaz explained: "For Dôle, everyone used to take the remains of the pinot noir and gamay grapes, the bunches that weren't good enough for the 'better' wines. But I have decided for my Dôle to take the best grapes instead!" Add to that the chalky soils and her pure style of wine-making, and you have a truly delicious, uncomplicated red wine for every day. Perfect for lunch on the mountain, very good with a plate of dried beef and other meaty snacks.
Like my selection of white wines, these five are only a fraction of the delicious red wines that you can taste in Valais. Look out for them, try them, and let me know what you found. Santé!