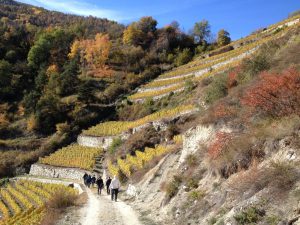 All it took to fall in love completely with the wines of Valais, the largest wine region in Switzerland, was touring wineries for a few days in the company of passionate wine lover and ampelographer José Vouillamoz. José is a grape geneticist and studies the origins and history of grape varieties and is best known as co-author of Wine Grapes, with Jancis Robinson andJulia Harding. He loves sharing a good story and is at his best if he can shock his audience with tales of the (sometimes incestuous)family relationships between the differentgrape varieties, something he did extensively during our trip.
Switzerland has a remarkable number of historical grapes varieties, and together with the extremely limited availability of the wines and the century-long history of winemaking, this results in a large collection of wonderful stories. Stories about 'impossible' wines, found nowhere else in the world.
Ungrafted vines on Visperterminen
Time and place of action: a day in November 2014, in the valley of the River Rhône, well before the river continues its way through Lake Geneva, into France and on to the Mediterranean. We started our journey in Visp, near the Rhône Glacier and the source of the river. Just outside this small medieval town, along a road that winds deep into the mountains, lies one of the most impressive vineyards in the world, the Visperterminen. Among Europe's highest vineyards, the plots range in altitude between 650 and 1150 meters. Within the 40.5 hectares of vineyard, 2352 small plots of vines can be found, all with different owners. On this sunny day each piece was covered by its own blanket of bright fall colours. Most plots are planted with Savagnin (best known for Château Chalon and Vin Jaune from the Jura), which here is called Heida or Paiën. Other plots are planted with different local varieties. A proportion of the Heida vines is ungrafted, José told us as we stood on the small viewing platform across from the vineyard. Five years ago, Kellerei St. Jodern started to harvest the grapes from these ungrafted Heida separately, to make a special wine. This Heida Veritas is now one of Switzerland's icon wines.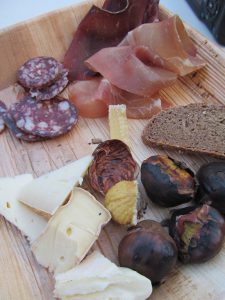 Brisolée
Heida became a favourite grape variety on the trip. A day earlier, in Clos de la Couta in Vex, we drank the Heida de Vex from Jean-René Germanier. Clos de la Couta is almost just as impressive as Visperterminen, and lies on a southeast facing slope which extends between 650 and 800 meters altitude. A few years ago, Germanier and partners restored the vineyard to its former glory, and planted 11,000 Heida vines and 5,000 Pinot Noir vines. We had lunch here, accompanied by a typical brisolée of roasted chestnuts, dried beef, regional cheeses and spicy pumpkin soup with ginger. A well-deserved reward after the steep walk to the bottom of the vineyard. To accompany the food there were several wines, including the fresh Heida de Vex, full of character: pure enjoyment!

Rare varieties in Visp
With the impressive Visperterminen still on our minds, we drove down to Visp, where Marlis Chanton led us on a tour of the old streets. She apologised: her son and husband could not be present – today, the last grapes needed to be brought in, as the weather forecast for the next day was bad. Chanton specializes in producing small quantities of wines from totally unknown grape varieties and we were to taste them in Chanton's modern tasting room. Several of these grapes have recently been saved from extinction, partly thanks to José Vouillamoz. One example is Lafnetscha, a grape variety that is native to Valais. The 2012 Lafnetscha wine has a beautiful structure, high acidity and a fruity character. Not so long ago, José discovered one of the parents of Lafnetscha, a grape variety called Completer, hidden away in the garden of an old farmer. The name refers to the monastic use of the wine: before or after Compline (one of the hours in the daily routine of a monastery), Benedictine monks were allowed to enjoy a glass of wine in silence.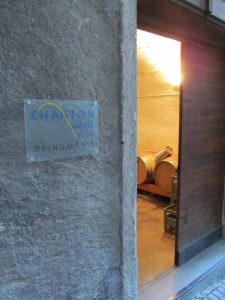 Alongside Laftnetscha, Chanton also makes Himbertscha, Plantscher and Eyholzer Roter. We had also tasted this last variety a day earlier, as an Eiswein from 2008. Complex aromas of marzipan, orange peel and candied nuts with an incredible sweet-sour balance. No wonder the deer devour these grapes, given the chance. And when that happens, by the way, there is simply no Eyholzer Roter that year, dry or sweet! Chanton is the only producer and the vineyard comprises just 0.25 hectares.

Parent of 81 children
We could not leave without tasting the Chanton Gwäss, or in French, Gouais. Once, the grape Gouais Blanc was widespread throughout Europe, including in France. However, as of 1598, it was banned as an inferior grape. But recent research concluded that this grape is the ancestor of dozens of well-known varieties. In total, Gouais currently has 81 known children, including Chardonnay and Gamay! José therefore calls Gouais the Casanova of the grapes, and if you look at the pedigree in Wine Grapes (under the Pinot pedigree), you will understand why. Gouais has been cultivated in Switzerland since the Middle Ages, and never disappeared from there, as it did in France. Chanton makes one of the best wines from this grape: a wonderfully refreshing summer wine with aromas of grapefruit and tropical fruit, and only 11% alcohol.
Wine for Mothers
It was time to travel on to Salgesch, on the German-French language border of Valais, where Olivier Mounir of Cave du Rhodan makes a great Humagne Blanc. As 'Humagny', the variety was already mentioned in a document from 1313 from nearby Anniviers. The grape originally comes from Southern France, however, and is identical to a variety from the Jurançon, called Miousat. Just like Completer, Humagne Blanc is a parent of Lafnetscha. A day earlier, in the small but well laid out Wine Museum of Sierre, director Anne-Dominique Zufferey had explained to us that for centuries, following childbirth, Valais mothers were given a special cup of wine. This cup was made of wood and filled with Humagne Blanc, usually flavoured with honey and spices such as nutmeg and cloves. Strong healing qualities were attributed to Humagne Blanc. Allegedly, it would have contained more iron than any other wine, but research has shown that this is a myth. In Valais however, it is still customary to give a bottle of Humagne Blanc to a new mother. The Humagne Blanche 2013 of Cave du Rhodan smells of fresh herbs, honey, liquorice, quince and straw. The additional spices are not necessary at all!
Glacier wine from the Grimentz
On to the tasting room of the Château de Villa in Sierre, where we were poured a very special wine, Vin du Glacier, from the bourgeoisie (literally, 'the community') in Grimentz. Normally this wine, made from another extremely rare grape variety, Rèze, never leaves the cellars of the bourgeoisie. It is served straight from the barrel, and only at marriages of members and other major events. Today, tourists can taste small amounts, in a tasting room, but usually you have to travel to Grimentz itself, high up in the mountains of the Val d'Anniviers. This wine has been made for centuries and is closely linked to the transhumance, the annual migration of cattle and cowherds from the alpine meadows to the lower villages. Until the middle of the 20th century, in the autumn the mountain people moved down into the valley, to harvest the vineyards. They made wine, put it in small vessels, and in spring transported it up to the mountain villages, on the back of a donkey. In Grimentz, up in the mountains, the wine was stored in wooden vats, but not before topping up an old vat already filled with wine, with the new wine. In this way, a solera was created, which goes back to 1886. Calculations estimate that approximately 20 litres of wine remain from the start of the solera.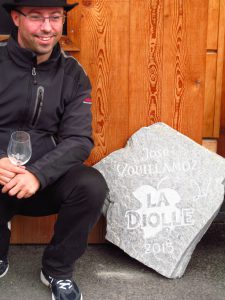 Rèze and Diolle
Especially for us and thanks to José, a small amount of Vin du Glacier had been brought down to Sierre from its resting place at 1570m altitude. The modern tasting room of Chateau de Villa may have lacked the atmosphere of the community room of the bourgeoisie high up in the mountains, with its tin cans and wooden cups, but the wine tasted no less special. How to describe the Vin de Glacier? Think of sherry and nuts, but also of retsina. Oxidative of course, but very intriguing, like Vin Jaune. Vats for glacier wine are made from larch, José told us, hence the resin flavour. The grape variety used, Rèze, is also mentioned in the Anniviers document of 1313. It is possible that the term Rèze is related to Raetica, a famous wine imported by the Romans aroundthe startof our era from the harbour of Aquilea, in northern Italy.
Rèze is either a parent or a child of Diolle (in ampelography it is not always possible to tell the exact relationship), which is an equally ancient variety, again brought back to life by José and his co-workers. In 2005 Vouillamoz found two lonely vines in one of the historic stone walls that support the terraces of the steep vineyards of Valais. From those old vines, new plants were promulgated in a nursery, which were then planted in a local vineyard. The first Diolle wine is expected in 2018 and will be made by renowned Swiss winemaker Didier Joris.
And so this story could go on for pages. I have only mentioned white grape varieties so far, but red varieties include for example, Rouge du Pays, which in Valais is wrongly called Cornalin. Or the real Cornalin, which occurs under the name of Humagne Rouge (no relative of Humagne Blanc). And then there is Syrah. This is the Rhône Valley after all, and you will find the various grapes from the famous French part of the river here as well. That night, we tasted a Syrah from Simon Maye & Fils, which in a blind tasting a few years ago beat Guigal's Côte Rôtie La Turque 2001, with flying colours! But it was time to find our rooms at the Hotel de la Poste in Sierre, and go to sleep under the canopy of native trees which decorated the ceilings. Our heads spun and we were full of the stories and wines. And we still had another day to travel with José.
On a press trip to the Valais, I became enthralled by stories of rare grape varieties, as related by José Vouillamoz. The trip followed the Digital Wine Communication Conference that took place in Montreux, Switzerland, November 2014. This article, based on this trip but not a  factual report, was first published in Dutch in Bouillon Magazine, edited by the publisher. The English translation of the original version was created for the Update of the Circle of Wine Writers, and edited by Wink Lorch.