Last week, the transcribers team of the Folger Library in Washington DC started on a new project, a manuscript from the second half of the seventeenth century, with lots of medicinal drinks, made wines, puddings etcetera. I already found some nice recipes for my research into wine and its uses in the kitchen, but I also was reminded of a wine that is currently resting in my fridge: the orange wine that I wrote a piece on several months ago. In this article, I compared an English recipe for orange wine with a Dutch one, and concluded that the author of the Dutch cookbook De Utrechtse Keukenmeid (1771) must have been inspired by Hannah Glasses' The Art of Cookery Made Plain and Easy (1747 and many more editions). And yes, this concerns wine made from oranges, not the skin fermented white grape wine!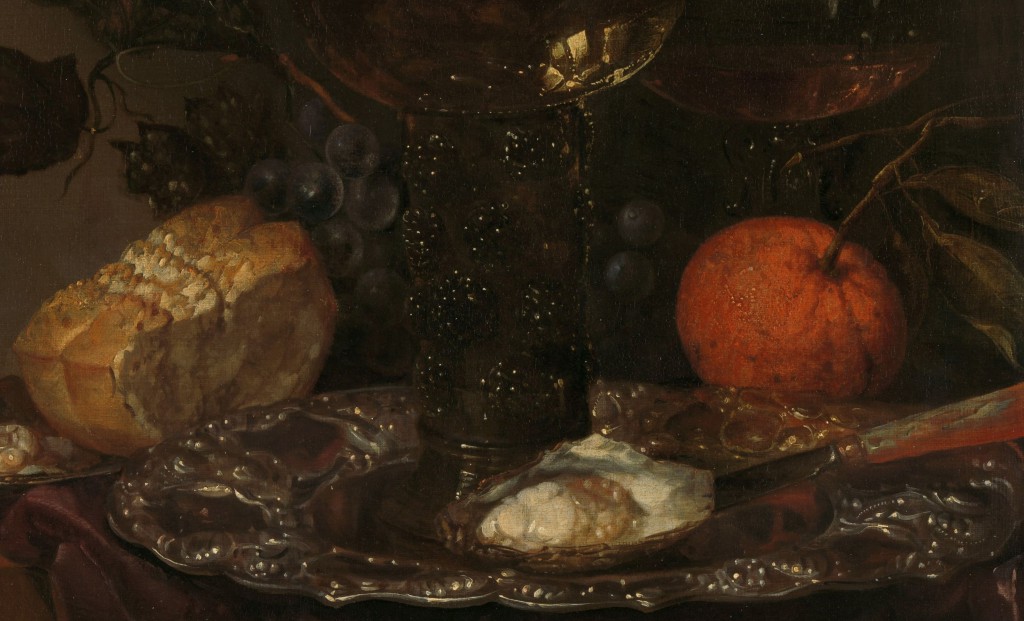 Recipes
The Dutch version looks like a very accurate translation of the English, with a few slight alterations. The original English recipe reads: To make Orange Wine with Raisins
Take thirty Pounds of new Malaga Raisins picked clean, chop them small, you must have twenty large Seville Oranges, ten of them you must pare as thin as for preseving; boil about eight Gallons of soft Water till a third Part be consumed, let it cool a little, then put five Gallons of it hot upon your Raisins and Orange peel, stir it well together, cover it up, and when it is cold let it stand five Days, stirring it up once or twice a Day, then pass it thro' a Hair-sieve, and with a Spoon press it as dry as you can, put it up in a Runlet fit for it, and put to it the Rhinds of the other ten Oranges, cut as thin as the first; then make a Syrup of the Juice of the twenty Oranges, with a Pound of white Sugar. It must be made the Day before you tun it up, stir it well together, and stop it close; let it stand two Months to clear, then bottle it up. It will keep three Years, and is the better for keeping.            
The Dutch version runs: [Oranje-wyn] Op een andere manier
Neem dertig ponden nieuwe mallagaasche Rosynen, schoon geplukt, hak ze klein, neem 20 oranje appelen, schil ze dun af, kook omtrent 16 stopen water tot dat het omtrent een derde verkookt, giet 'er 10 stoopen heet van om uw Rosynen en Oranje appelen, roer het wel door malkanderen, dek het toe en laat het koud geworden zynde, vijf dagen staan, twee maal op een dag omroerende, doet het dan in eene haairen zeef en druk het met een houten lepel zoo droog uit, als gy kunt, maak van het zap van de 20 oranje appelen met een pond witte broodsuiker eene syroop; giet het vogt in een vat, doe 'er de syroop en schillen van oranje appelen by, roer het door malkanderen en stop het vat digt toe; laat het twee maanden staan, om klaar te worden en tap het dan af.
Since I was also curious as to how this wine would taste, I planned to make it one day. And when my friend Manon presented me with two bitter (or Seville) oranges, I knew what to do with it. I would make this orange wine recipe.
Malaga raisins
First I tried to find Malaga raisins. It seems that this is a very special type of raisin from the Muscat of Alexandria grape variety, which even has its own appellation of origin: Pasas de Málaga PDO. They are only produced around Malaga, Andalusia. But to find those in the Netherlands was impossible and I had to make do with organic raisins from Turkey, sultanas, hoping they would not have been sulphured too much (there was no mention of sulphites on the packages I bought). Three pounds of sultana's were washed, and put in a large glass jar with 2.4 liter boiling water. Of course I had cleaned the jar first with boiling water and a tiny bit of sulphite powder. I added the peeled skin of one of the bitter oranges and left the concoction for a few days. I squeezed the juice from the skinned orange and put it in a little glass jar in the fridge.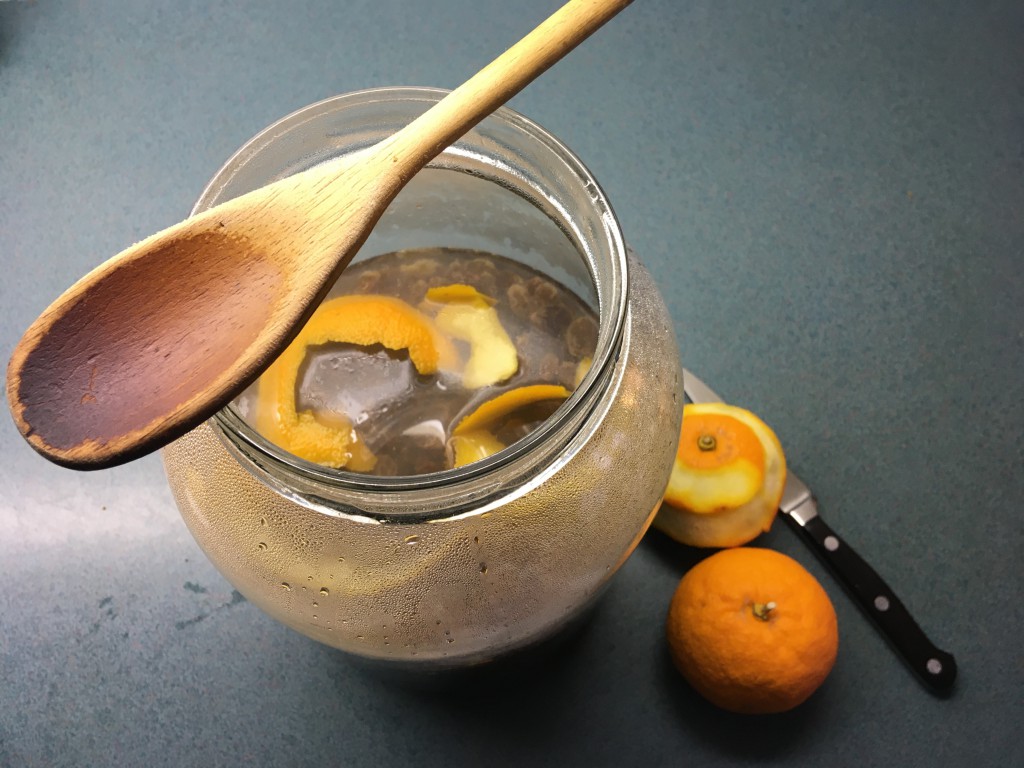 After a few days, I peeled the other orange, squeezed that one too and added the juice to the bit I already had saved. With 50 gram of sugar, I made a syrup and let it cool down. The raisin mass in the glass jar I put through a colander, pressing out as much fluid as possible. I cleaned the jar thoroughly again, with sulphite powder dissolved in boiling water, rinsed the jar and put the fluids back in, now adding the orange syrup. Lastly, I added the peel of the other orange and then left the jar for days in a dark place.
Fungi and fermentation
Checking after a week or so, I discovered that fermentation was occurring, but the surface of the fluid was covered in pretty blue fungi… high time for a rescue operation! I sieved the fluid again, rinsed a large bottle with sulphite water and put the wine in the clean bottle, in the fridge. And wonders of wonders: it continued to ferment right away! Tiny bubbles could be seen in the bottle, rising to the surface. I tasted a little bit of the 'wine', and it turned out to be rather good! Very sweet, yes, and too sweet to my taste. But I could imagine that this would become something to drink, chilled and with may be an extra slice of orange or lemon in it.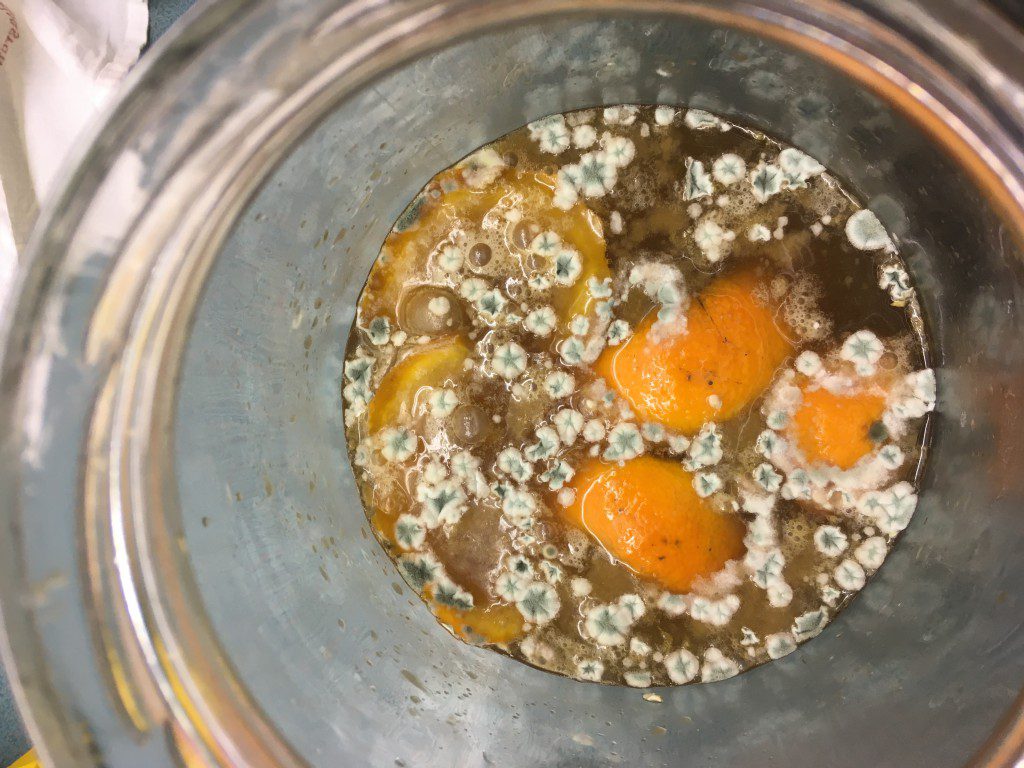 Like PX
We are now another few weeks further along in the process, and the fluid is still fermenting a bit. The home-made orange wine has a nice dark orange brown colour, a bit like a light PX sherry. And in fact, it even tastes a bit like a sweet sherry. The sweetness is becoming less, so sugars must indeed be converted into alcohol.
I can see myself drinking this after dinner with dessert or some chocolates. I'm not sure how much alcohol will develop, but as long as it doesn't spoil, I will keep it in the fridge, checking and tasting every few days. I was truly amazed how this could work, but it does! So if you are out of (sweet) wine in the coming weeks, and can't leave the house: as long as you have sugar, water, organic raisins and (bitter) oranges, you're fine …
Oh, and in case you're wondering what I did with the raisins: I baked an apple pie and put the rest in the freezer. Very handy, at the moment!