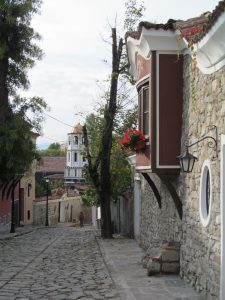 This year, the annual Digital Wine Communications Conference was held in Plovdiv, one of the oldest continuously inhabited cities in the world. Plovdiv is situated on the Thracian plain some 150 kilometres southeast from Sofia, the capital of Bulgaria. Mountain ranges loom in both the south and the north. The history of this city goes back more then 8,000 years, with Thracians, Greeks, Romans, Bulgars, Ottomans and many more as its consecutive inhabitants.
Outside of the conference program, I had very little free time to explore the city. Thanks to some stolen time and to arriving a day earlier, I was able to get a tiny glimpse of the history of wine in this colourful place though. But to find those stories, I had to dig a little bit deeper than usual. It's not that the stories were not there, but had I not looked for them, I would probably have missed them.
For example, there were no grapevines on every balcony, like in Georgian Tbilisi, where I was this spring. Nor were there carved vines or leaves decorating house doors, gates or windows, like sometimes in Austria. No worn steps to wine cellars, no wineries with an outlet in town, like so often in France, or Germany. Wine was absent from life on the streets, or so it seemed to me. One of the reasons for this absence I can think of, is that winemaking in past centuries was located mostly at monasteries. A second reason might be the long Ottoman domination. The Ottomans allowed wine making, but for general consumption of alcoholic beverages, Muslim rule cannot have been all that positive.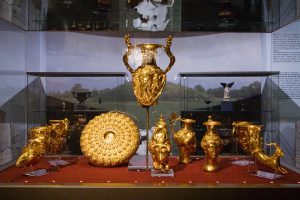 Birthplace of Dionysos
But with some researching, I did discover one location where the long wine culture of the region was present, and that was the Archeological Museum. Here the famous Panagyurishte Gold Treasure is on display, a truly stunning set of nine gold vessels. The eight so called rhytons and the phiale where used for drinking wine and feasting and date from around 300 BC. Over 180 more of these kind of vessels have been found in Bulgaria. They belonged to the Thracians, a people and culture mentioned in the works of Homer and other classical writers, living in this region in the 4th and 3rd centuries BC. The Greek historian Xenophon for example tells us of a feast hosted by the Thracian king Sevt. At this feast, wine was served in animal horns as part of a ritual.
Thrace is also important for another reason: several classical authors name it as the birthplace of Dionysos, the god of wine. No surprise then to find many objects with Dionysic scenes at the Plovdiv Archeological Museum.
After the Thracian and the Greeks, the Romans entered the scene. When they expanded their empire to the Danube, they made the former Macedonian town of Philippopolis, named after the father of Alexander the Great, their centre of administration. The remains of a theatre and a stadium are the most visible signs of the Roman presence, together with several big blocks of stone strewn around the present day city. My hotel was located just in front of the ruins of the Forum and the Odeon, the administrative centre of Trimontium, as Plovdiv was called in the first centuries of our era. But for evidence of wine in Roman times, museums were again the place to go to. The Archeological Museum displays splendid silver Roman drinking vessels, and in the Trakart Centre, where the mosaics of a 3rd century villa are uncovered and on display, beautiful Roman glassware lines the walls.
To get a glimpse of wine culture in later ages, I had to enter yet another museum: the Ethnographic Museum in Plovdiv's Old Town shows some tools for work in the vineyard and a few photos of harvesting around 1900.
Wine culture in the 21st century
To experience present day wine culture in Plovdiv was also not very easy. There must have been wine shops in town, but I only found one (which was closed). Friends went to Vino Culture, a wine bar near the pedestrian shopping area in the centre of town. They were very enthusiastic about the selection of wines and hospitality of the owners. A good dinner with local Bulgarian wines is of course possible: we spent a relaxed evening at Hebros Restaurant in the Old Town, with several good wines. More about these wines and the indigenous Bulgarian grape varieties will follow in another post. But tourist shops seem to focus more on selling rose oil from the nearby Valley of the Roses then on wine.
When speaking with a young Bulgarian wine maker to be, Ilya, he explained that his friends rather drink beer than wine. According to him, his generation has no culture of wine drinking, not like he experienced in Italy. It is Ilya's dream to change that!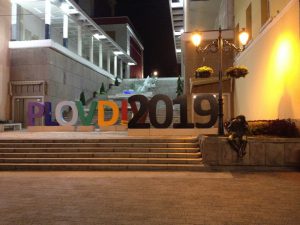 The wine loving tourist is better served outside of town, so it seemed to me. In preparation of Plovdiv 2019, when this interesting and attractive city will be European Capital of Culture, several initiatives in wine tourism are appearing. For example, sponsored by Lonely Planet, a map with a Wine Route in Plovdiv Region is published, with several wineries to visit. One of the participants is Villa Yustina, a winery that organizes tours and tastings, and looks very welcoming. At the conference, we received a brochure from two young and bright representatives of the company and tasted their wines. Let's hope that they and Ilya will be able to succeed in their plans. So that Plovdiv can become a source of a lot more wine stories then the ancient Thracian ones.