Falling in love with a wine region is not a difficult thing to do. Especially if the sun is out, the food is good and the people are welcoming, the wine almost always tastes delicious. A typical case of wine in context. To say that I fell in love with Swiss wines, and especially those of Valais, will probably not surprise you. Certainly not if you have seen my photos, on Twitter, Facebook or Flickr.
On the Sunday that I first visited Valais, early in November, the sun was out, the sky was clear blue and the patchwork of yellow, orange, brown, red and green slopes had a golden hue that reflected on everything in the broad valley of the Rhône River. In the background, high over the vineyards, snow-capped mountains framed our view.
The wines we tasted that day were pure, lively and light to medium bodied, never heavy, never dull.
They tasted absolutely great with the typical foods of the region: cheese, dried beef, bread, pumpkin soup and roasted chestnuts, together called bresolée. The wine producers present proudly told their stories, for example on the long tradition of wine making in the region, the numerous grape varieties unique for Switzerland and the very distinct flavour patterns.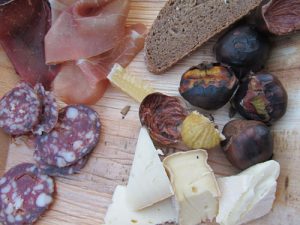 So, you see, all was in place for this love affair. But I do not think it was a fling. For one, I was not the only one falling in love: far from it. More participants on this trip fell under the Valais spell. And even here, in my flat home country, people have written with passion about Swiss wines before. Writing is a sure way to capture the moment, to pass on the stories. Abroad, reading an article or a book on Swiss wine it is almost the only way to learn about Swiss wines. More people will have read about Petite Arvine, Heida, Cornalin or Fendant then have tasted it. The wine production of the six wine regions only covers 40% of the home consumption. The other 60% is imported. Almost 98% of Swiss wines are consumed in the country; the small percentage that is exported is, in the Netherlands at least, almost exclusively from a big cooperative. You will be hard put to find a wine of a smaller, private Swiss wine maker here. I will come to that in the coming weeks.
Luckily, there are things to read that fill the void of not having Swiss wine available. Ellen Wallace, a journalist living on the shores of Lake Geneva, has worked for almost 30 years in Switzerland now, and like me she has fallen in love with Swiss wines. She writes about them on her website Ellen's Wine World and in Vineglorious!, a lovely book published recently. Vineglorious! is a beautifully designed and passionately written compilation of short stories around Swiss wine, grouped in seven main chapters. Themes are many, like nature, people, soil, extremes, commerce and vineyards. In the margin of each page, a grape variety is introduced.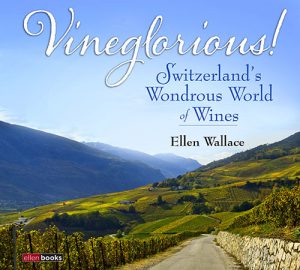 The stories are lively, witty and full of need-to-know ánd nice-to-know details. You get insights in Swiss history, views over mountains and lakes, strolls through stunning vineyards and meetings with interesting winemakers. No boring summing up of hectares, bottles and technical details, but lots of well told stories. And beautiful photography, modern and historic. Swiss wine in context! After reading Wallace's book, you will definitely want to taste the wines, see the slopes of the UNESCO World Heritage site Lavaux and meet the farmers. Or hop on a train to Zürich, take a plane to Geneva and make a few winery visits. You can order Vineglorious! online here.
To explore my fascination with Swiss wines, mostly those of Valais, this theme will be a focus of my attention this winter and coming spring, in blogposts and in a print article. And I will also put this love affair to the test! Will the wines that I can buy here or the ones I brought with me from Switzerland, be as intriguing and delicious here as they were in Valais? Join me on this journey, and we will find out. On Storify, I will gather the different links and keep you posted.
And for now, as they say in Valais: Oooooooooooooooohhhhhhhhh santé!