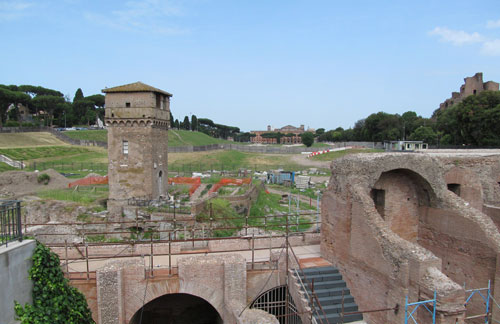 Recently, I spent a weekend in Rome, filled with friends, wine, good food and lots of history. And we learned the best way to explore a big, crowded city: leave it, or go exploring in the evening or the early morning! Part 2 of a story about Rome, the Castelli Romani, Lazio and wine.
For Sunday we had planned an excursion to the town of Frascati, to drink the local wine and taste the famous porchetta. But first, I wanted to show Natasha the Mercato di Campagna Amica Circo Massimo. This small but very colourful and delightful farmers market is hidden in a street between the Circus Maximus and the Forum Romanum, close to the Tiber. You can find vegetables, bread, meat, olive oil, honey, wine, cheese and more food stuff there, mostly produced within 60 miles of the city. Next to the market is an outdoor space with tables and benches; we had our breakfast there with a delicious calzone di verdura and fresh cherries and apricots.

In the vicinity of the farmers market we walked around and wandered into a church. While outside Japanese and Korean tourists were putting their arms at risk in the Bocca della Verita, we sat down inside the Santa Maria in Cosmedin to enjoy the chanting of Byzantine monks in a service according to the Old Greek Liturgy. Later, I read that this church was built over an ancient food distribution centre, a statio annonae. Very fittingly, so close to a present-day farmers market. Go to this church for the beautiful mosaic marble floor (a so-called Cosmati floor), the atmosphere and an old mosaic in the gift shop!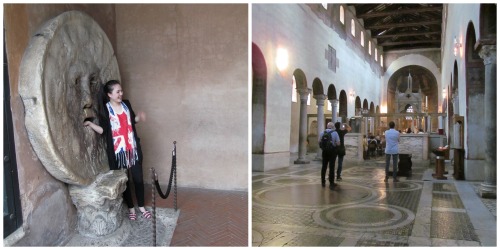 Porchetta in Frascati
Crossing the Circus Maximus, we walked back to the subway entrance. Since the crowds were already starting to grow at the stations we passed, it was high time to leave the city again! The 11.45 train took us from Termini to Frascati in 30 minutes. Our plan was to follow in the footsteps of another blogger who wrote a very popular post on eating porchetta in Frascati. You can read her story here.
Frascati is famous not only for porchetta, roasted pork, but also for its simple white wines. Don't expect anything grand, just drinkable light white wine, refreshing in summer, made from the grape varieties malvasia and trebbiano. That is, if you have a bottle of a decent producer. There is also the home-made kind, sold in half liter jugs, most often a bit sweetish. That was the kind of wine mentioned in the blogpost, and we decided not to follow the suggestions in the text to the letter.
We did buy our thick slices of pork, bread, mozzarella, olives and dried tomatoes in olive oil just as suggested in our guiding article. But since we did not care for the bad, sweetish wine, we did not go to the rather sloppy looking Osteria del'Olmo. At the suggestion of the nice lady behind the counter at Leda's porchetta stall we sat down at their terrace, in the open air. And with our purchased ingredients, and half a bottle of chilled Frascati from the cooperative cantina in Monte Porzio also bought at Leda's, we had our porchetta sandwich lunch, something to go back for next time we are in Rome: truly delicious!
Because the shops in Frascati close at 1 pm, we wandered around not too long and went back to Rome on the 2.30 train. We can recommend this relaxed lunch break to Frascati for 100%.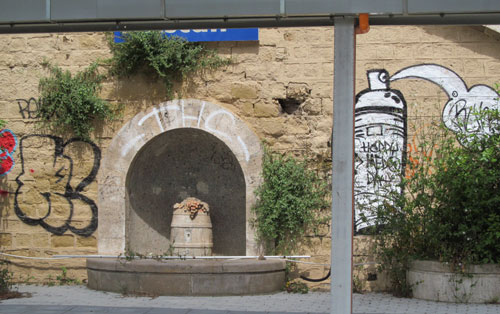 Vino e gelato
After a good rest at the hotel, later that afternoon it was time to meet Sarah again at wine bar Al Vino Al Vino, Via dei Serpenti 19, in the Monti neighbourhood. Here, we shared several interesting glasses of wine, all Italian, and finished with a Marsala by Marco de Bartoli. Wine lovers will know this name: it is one of the few quality producers of this once great wine. To accompany our wines, we had some little bites: yummy roasted eggplant slices, a caponata and some cheese and sausage.
To leave Rome without having eaten an ice cream would have been strange, to say the least. Sarah therefore took us to Gelateria Fatamorgana on Piazza degli Zingari (Monti), where we tasted the delicious flavours of Maria Agnese Spagnulo. I must say, my basil ice cream was something I would go back to Rome for!
Early morning church visits
Over the past two days, Natasha and I had been trying to figure out what to do before leaving for the airport on Monday morning. Our bus didn't leave till 10.15 am and it seemed a waste to leave those few morning hours unused. At the suggestion of Sarah, we finally decided to walk the few minutes from our hotel to the Santa Maria Maggiore, one of the most lavish and famous churches in Rome. We had breakfast across from the church, and I found out that you better never sit down to have coffee, tea and some pastry …. If you don't want to throw your money away, you better be an Italian with the Italians and have your breakfast standing at the counter …. You pay at least twice as much sitting down to eat and drink compared to standing. ;-(
Inside the Santa Maria Maggiore, what struck me most were all the layers of history in this church, including a gilded ceiling made with the first gold that Columbus brought from the New World (or so the brochure said) and a 20th century marble floor in the Cosmati style. And the rows of napping priests…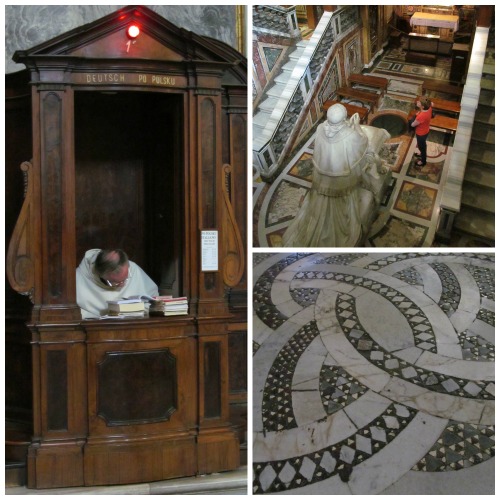 Our second stop was at Santa Prassede, a stones' throw away from the Santa Maria Maggiore and another one of those churches where you can see all the ages that have gone by reflected in the remaining architectural elements. We were almost completely on our own there, no throngs of tourists anywhere in sight! Especially the early medieval mosaics in Saint Zeno's Chapel were stunningly beautiful, as were those in the apse. In the crypt, you can see the tombs of Praxedes, the saint who gave her name to the church, and Pudentia, her sister, daughters of Roman senator Pudens, of whom Paul speaks in his second letter to Timothy (that is in the Bible, for those of you did are now frowning).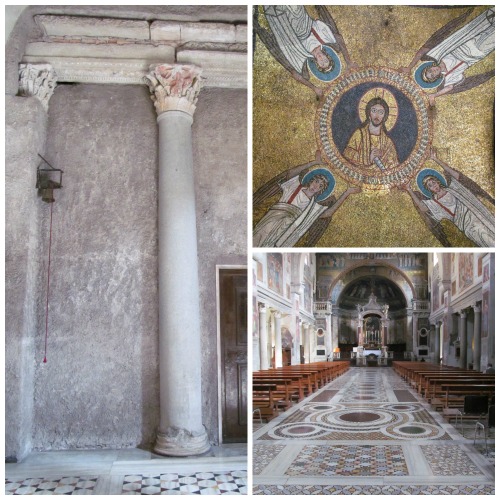 We spent quite some time in this little church, after which we walked back to our hotel to pick up our luggage. Rome had enchanted us (again) completely, even on this short Monday morning visit, and again we were very grateful for the many suggestions and ideas Sarah and Ettore, our friends from Antiqua Tours, had given us.
Ciao Roma
We will go back, for the Via Appia Antiqua, the Enoteca Provincia Romana, the Archeological Museum, the Castel San Angelo; to have diner again at Cesare, spent some time in the Villa Borghese, see the Vatican, visit more markets, have more ice cream, shop for shoes, wander across the Forum Romanum, sit on Piazzo Navona, drink more wine, see the Pantheon again, do an Angels and Demons tour etc… etc… etc… And of course, to leave Rome again, to visit more medieval towns and ancient sites, swim in Lake Nemi, take a train to Ostia, Etruscan Cerveteri or the villa's in Tivoli and taste (or better drink) all those other Castelli Romani and Lazio wines! Ciao tutti!