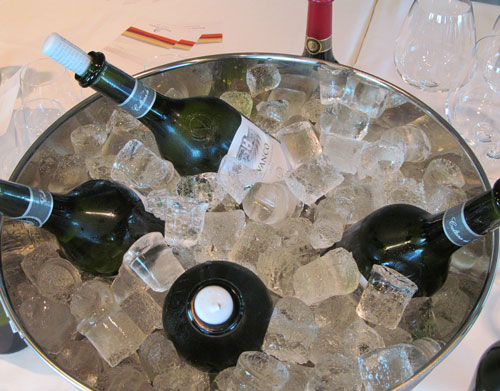 One of the best experiences I had while in Rioja last October was tasting several white Rioja's. Yes, next to red Rioja, there is also white Rioja, and it can be a truly delicious wine. Unfortunately, there isn't much of the white version around; only 5 percent of the total wine production in Rioja is white (another 5% is rosé, the rest is red). Strangely enough, 130 years ago the situation was quite different. Around 1880 much more wine in Rioja was white, and Alsatian vintners even came to help out in the area because of their knowledge of white grapes. This little detail was shared with us by Maria José Lopez Heredia, during a very brief visit to the bodega she and her sister inherited
Also amazing is that, despite the fact that in the 21st century there is very little white Rioja, two of the most famous Rioja's are in fact the white Viña Tondonia Reserva and Gran Reserva by Lopez Heredia. These wines are made the same way as red wines, vinified and matured in wood with months of oak aging and only released on the market after years and years in the bottle. At this moment the white Viña Gravonia Crianza 2004, Viña Tondonia Reserva 1998 and Viña Tondonia Gran Reserva 1991 are available!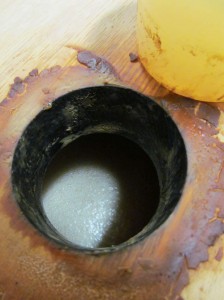 Modern versions
The whites I discovered are the more modern versions, fermented in either barriques or stainless steel, with less  time in the barrel than their predecessors . They are made to retain fresh fruit and are drunk young. The grapes used are mostly viura and malvasia, with an occasional outsider like white tempranillo.  More varieties are allowed according to the rules of the DOc: there is also garnacha blanca, maturana blanca, turruntés, chardonnay, sauvignon blanc and verdejo.
My first encounter with a more modern style of white Rioja was at Dinastia Vivanco. In my glass I found a lively pale wine with a slightly greenish hue, which was utterly refreshing and combined very well with all the delicacies we were served. It was made with 60% viura, 20% malvasia and 20% tempranillo blanco and fermented and aged in stainless steel vats. After this first wine, I was hooked, and decided to explore as many white Rioja's as I could. I would not come across more wines fermented ánd aged in stainless steel, but found the other whites equally interesting .
Challenge
With the exception of our visit to Lopez Heredia, tracking down white Rioja's proved to be something of a challenge! During the conference (DWCC) itself, in the hallways of the Rioja Forum in Logroño, I discovered only six, in two days: wines from Cune, Tobia, Lar de Paula, Marques de Murrieta, Bodegas Valdemar and Bilbainas. Luckily, during the excursion program, there was one more, from Bodegas Baigorri, where they were very proud of their white wine that was barrel-aged but still modern in style. I spoke with winemaker Simon Arina about it, and he told me Baigorri is especially promoting their barrel-fermented and barrel-aged 100% Viura. They started in 2002 with making white wine, and at the time were one of the first to do so again (at least, for the market). At Baigorri, they really believe in the potential of the whites, and in 2013, white wine makes up 5% of their production, which is growing steadily. To give the viura, which can produce very bland wine if not treated properly, more body, the wines are left on the lees, which is stirred several times during 8 months.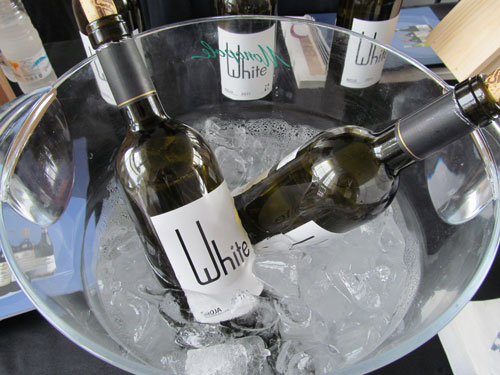 At Bodegas LAN though, even though they clearly made white wine, since a bottle was displayed on a glass shelf, they were very apologetic  about their white Rioja. 'Yes, we make it, but only for 1% of our clients. We feel that our strength lies in red wines and that viura does not deliver the quality we strive for.' Well, so much for difference in opinions…
Grapes from elsewhere
The last white wine in Rioja I tasted was at Marques de Riscal. Typically, this was not a Rioja, but a Rueda! Several renowned houses in Rioja make white wine, but not in their own region. They have put their faith in property in Rias Baixas or Rueda, hundreds of kilometres to the east, or buy  grapes and/or wines there. These regions certainly produce fresh and delicious whites, different from Rioja's viura and malvasia. But while in Rioja, why not use the grapes that are at hand? And since there are several producers now that have amply demonstrated the quality of the whites, I don't see why you should be ashamed of them.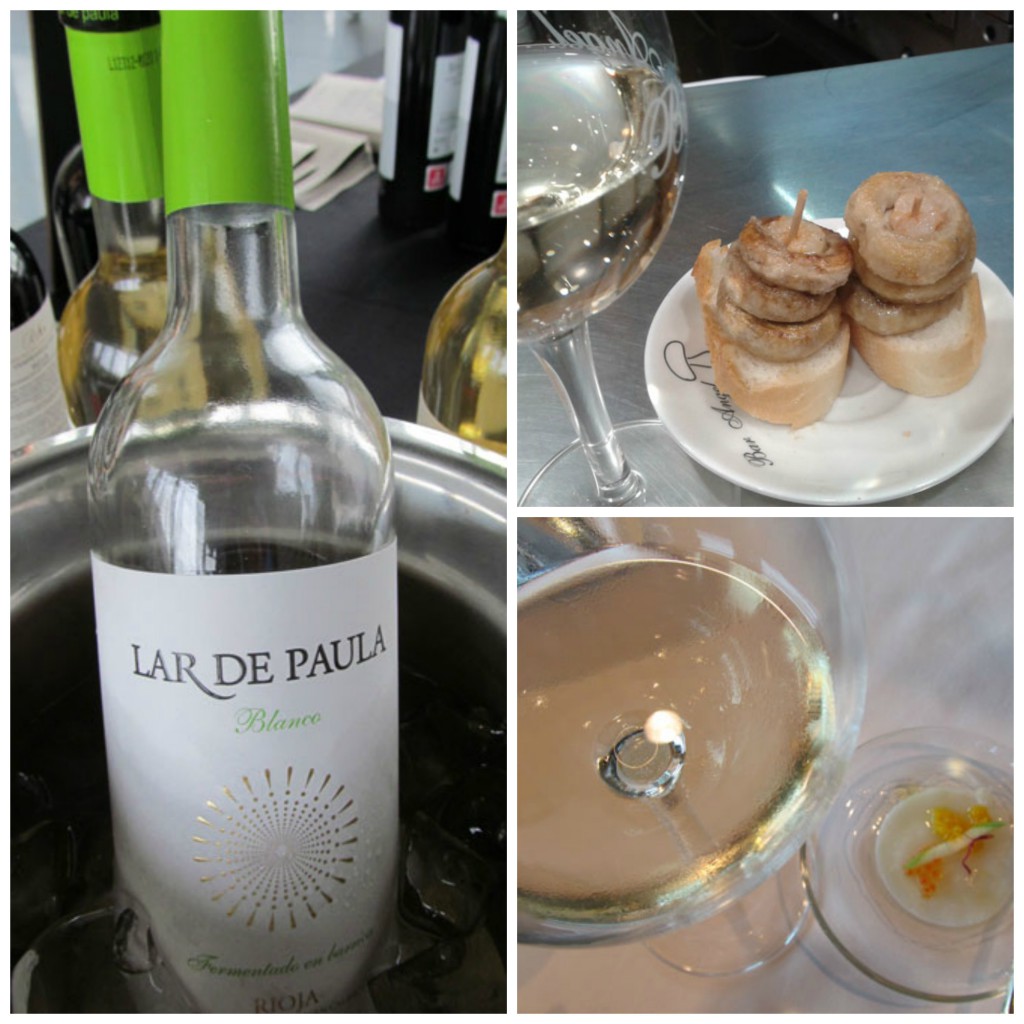 Calle Laurel
Although I did not take notes there, it was also good to see that Logroño's tapas bars on the famous Calle Laurel all poured white Rioja's, the one even fresher than the other. They go fantastic with squid, fried food, mushrooms etcetera. So my advice, when you are in the area: do not leave white Rioja's untried, and enjoy them as much as you can!
Tasting notes modern style Rioja's

Dinastia Vivanco 2012: young, fresh and lively, with lots of citrus fruit. Very refreshing, good companion for tapas and other small bites.
Baigorri Blanco 2012: hints of tropical fruit and fennel with a dose of apricot too. Clean and fresh, nice acidity, with a slight bitterness in the aftertaste. Long finish.
Cune White 2011: 100% viura, barrel fermented and aged in tinajas (large clay vessels). Fresh and pleasant, with hints of pineapple and vanilla.
Lar de Paula 2011: 60% viura, 40% malvasia, fermented in barrel. Very fruity, fresh, lots of wood in the nose.
Viña Pomal 2012, Bodegas Bilbainas: 90% viura, 10% malvasia, 4 month in barrel. Fruity, with lots of pear and melon, modest oak impression.
Bodegas Valdemar, Inspiracion 2011: From a variety that was discovered only in 1988, tempranillo blanco. First vintage was in 2009. Fermented and aged in barrel. Full-bodied wine, with tropical fruits, ripe pears and some oak. Fresh at first, but with a short finish.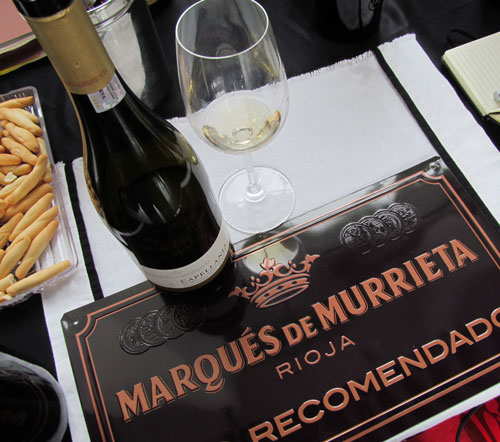 Tasting notes more classic whites
Tobia Reserva 2009: 66% viura and 34% malvasia, 17 months in barrel. Refreshing, with lemon and citrus on the nose.
Marqués de Murrieta, Capellania 2008: 100% viura, Reserva in the old style, with long barrel and bottle aging (in the bottle since December 2012). Fermented in stainless steel tanks, though. Like the wines of Lopez Heredia, lots of nutty aromas and flavours, dried peach and apricots, high acidity.