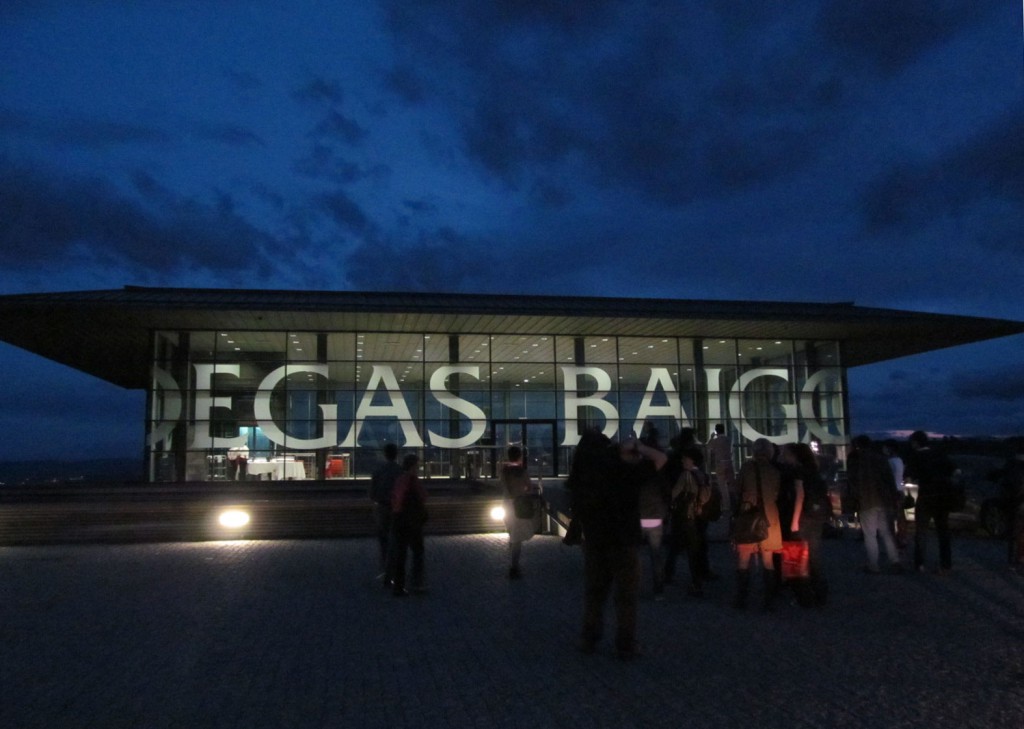 Getting to know a wine region is not something you do in one or two days. And when you come back from a conference on wine and digital communication and have visited only four wineries, you cannot claim to know that region. However, if at those wineries you have been shown around, have received a warm welcome, tasted the wines and have dined in the restaurant, you can at least tell your fellow #winelovers that in that region – Rioja, in this case – there is excellent wine and delicious food and that there are friendly people and interesting wineries! Moreover, if those wineries are situated in beautiful spots, have a long history or have hired internationally renowned architects, you have developed at least a feel for the area, and you can decide if you want to come back or not.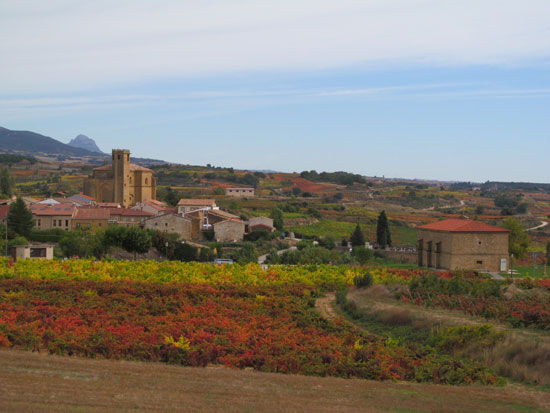 Well, I would definitely love to come back to the valley of the Ebro between Logroño and Haro, to see more of the historical villages, the big ánd the small wineries and the modern. I want to walk the Camino de Santiago de Compostella, gaze at the Cantabrian Mountains, have lunch at a bodega and drink another glass of red, white or rosé Rioja on a sunny terrace. Because at the four wineries I visited here, I had a taste of the region, and I think I have come to know the place, if only a little.
Red, red
Take for example Bodegas Baigorri in Samaniego. By coincidence, I visited this winery twice: once for a mystery dinner, and once for a visit on Sunday, with lunch. Arriving at Baigorri is not something you will ever forget, whether by day or night. On top of a small hillock next to the road sits a big glass box, which, despite its impressive features, is also very welcoming. Basque architect Iñaki Aspiazu is responsible for this structure (and the rest of the winery): after all, Baigorri is just inside the border of the province of Alava in Euskadi (Basque Country); less than 1 km further on, the road enters the province of La Rioja again. Hence also the name of the winery, which is Basque and refers to 'Red', or even 'Twice Red'.
By day, the views over the surrounding vineyards, valley and mountains are stunning, especially in autumn. Orange, yellow, red, and green, together with the grey mountains and the sandstone churches and villages present a spectacular tapestry; you can enjoy this great view from inside the glass box or sitting on one of the outside terraces that top each underground level. Glass of delicious rosé in hand, and you really need nothing else for the rest of the day…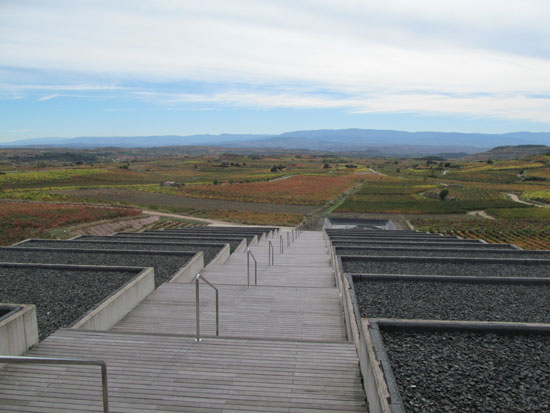 Seven levels
The glass house is the top of seven levels of winery, dug into the hillside. Each level houses a different aspect of the winery, from the shop to the vinification rooms, cellars and restaurant.  Purpose of the seven levels is to make use of gravity for transporting the grapes around the building; no pumps are used! That way, the grapes remain intact from the crates they are harvested in to the fermentation tanks, and oxidation is avoided.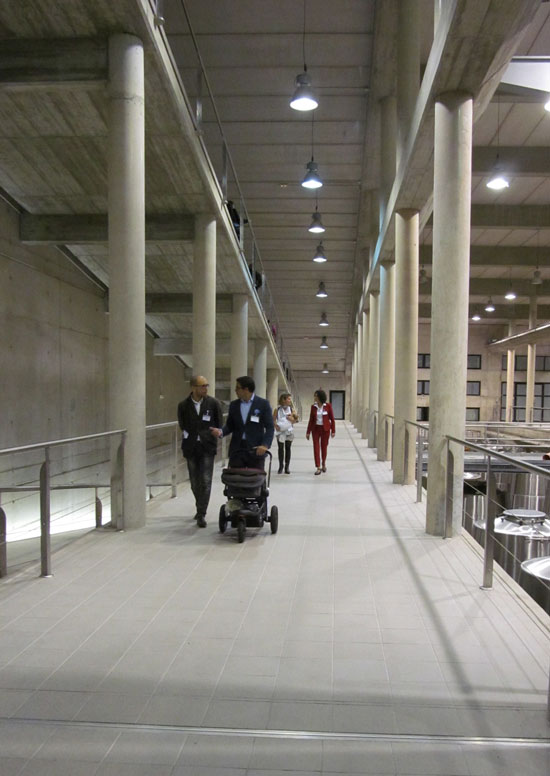 As we were lucky to see, to keep the grapes healthy and whole is also attained by rigorous grape sorting. Baigorri's red wines therefore primarily express fruit, not oak, as is still common in Rioja.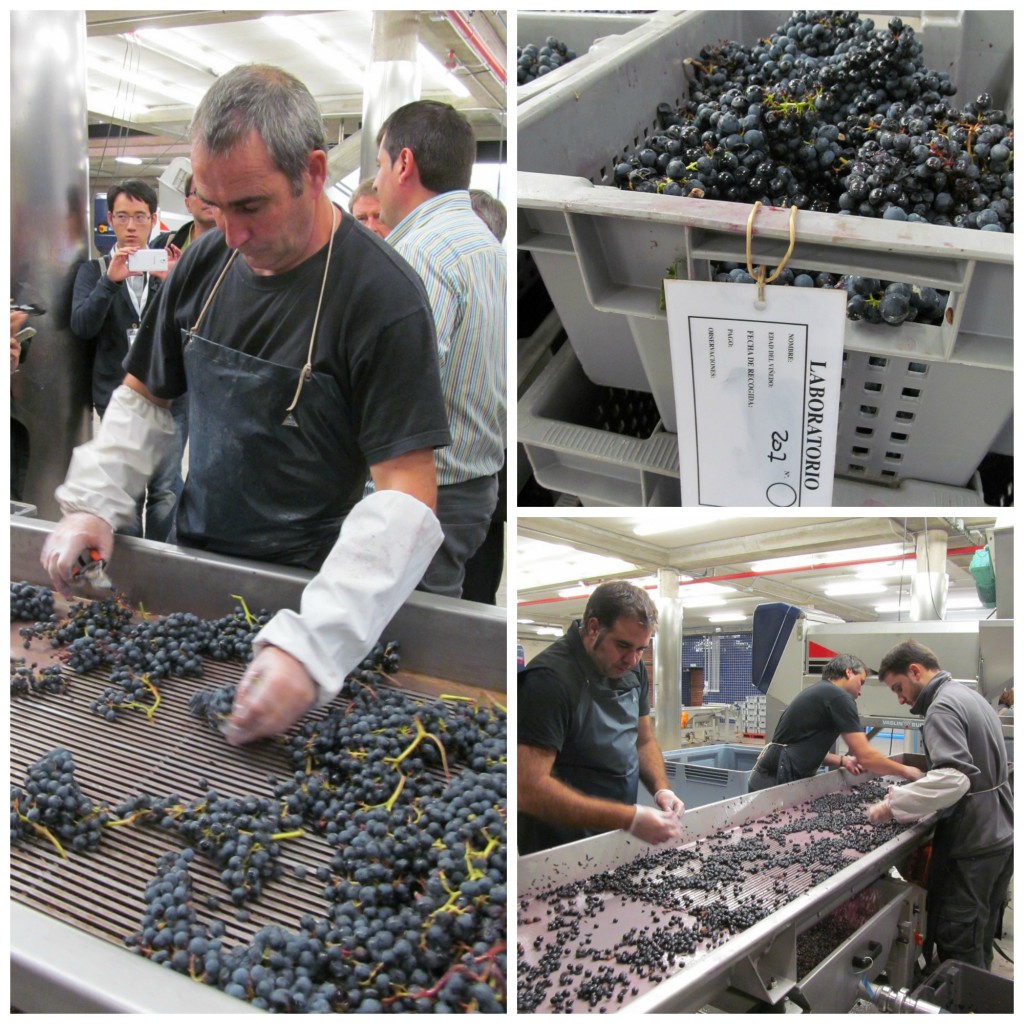 Futuristically looking fermenters I never saw anywhere else provide optimum skin contact. Maturation is in new, one or two year oak barrels for a relatively short time. After the time in barrel follows an extended maturation in bottle.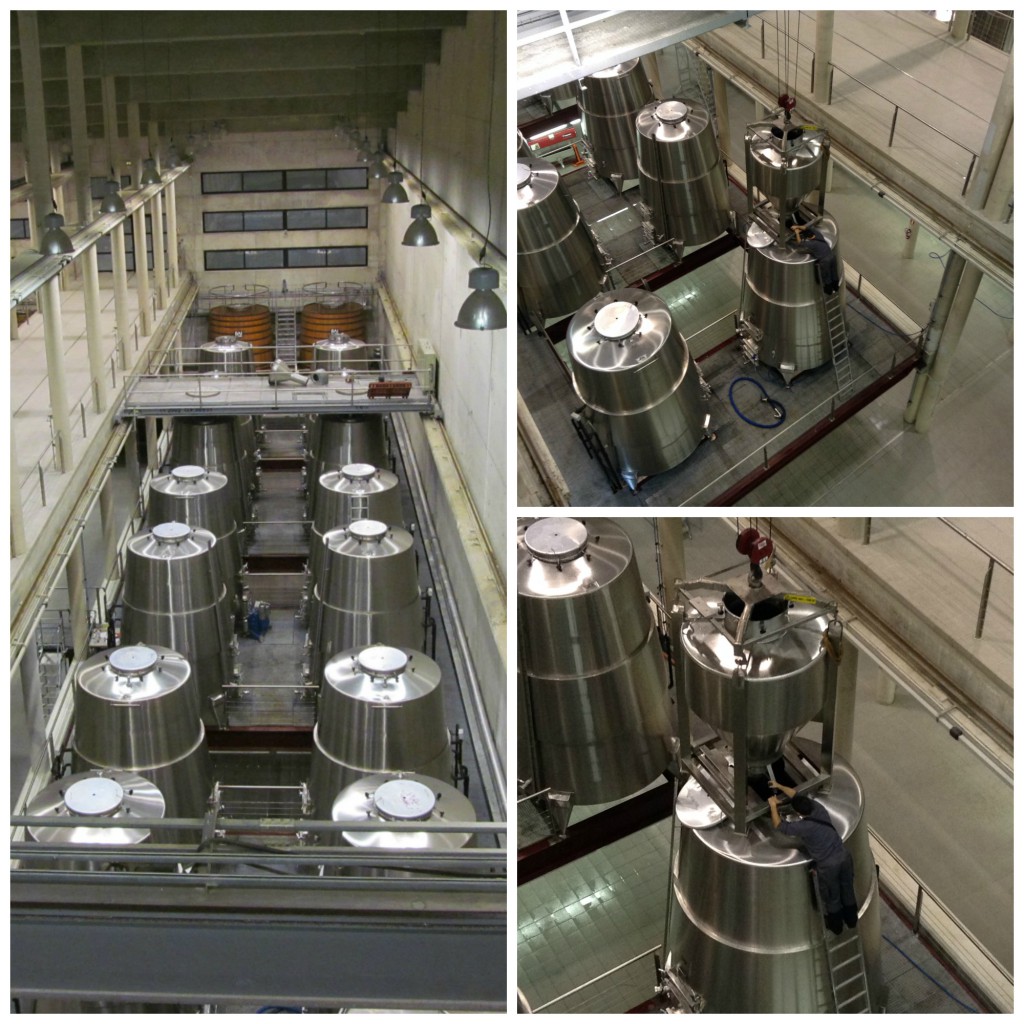 Both times I visited the winery, the reception was very warm and friendly. And if you think this is because we were an important group of visitors (digital communicators and all…), that might be so, but the winery is also open to the general public from Tuesday to Saturday. You can take a tour, even when you arrive on your own, which includes two glasses of wine with some tapas. Lunch is served daily at 14:00 hours. The chef prepares a full menu, making use of regional products. Expect such delicacies as black pudding with apple chutney, beetroot gazpacho, pork cooked in wine and panna cotta of Baigorri wines! The meals are, off course, accompanied by Baigorri wines, of which my absolute favourite is the barrel-fermented white Rioja, made with 90% viura and 10% malvasia.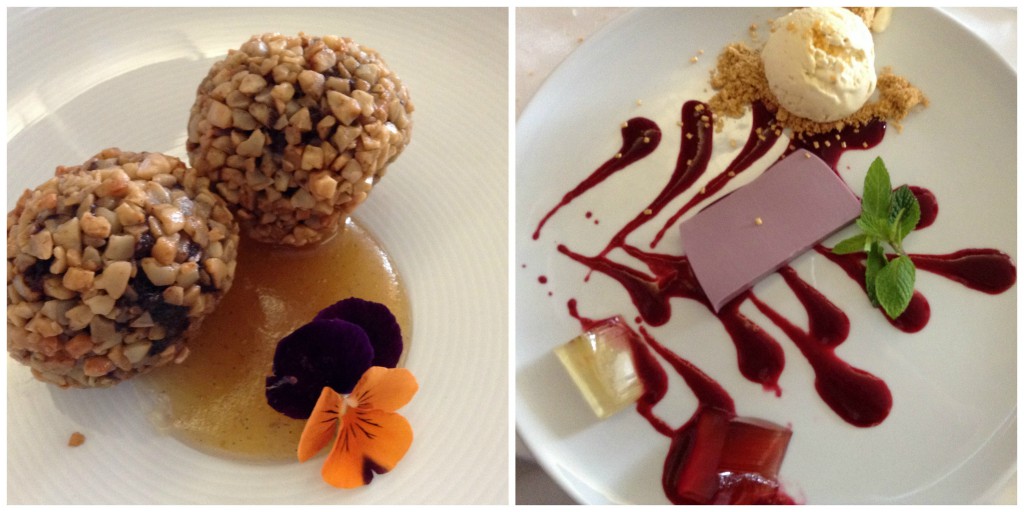 During our visit, the 2013 whites were already fermenting in barrels, while upstairs the last of the red grapes were brought in.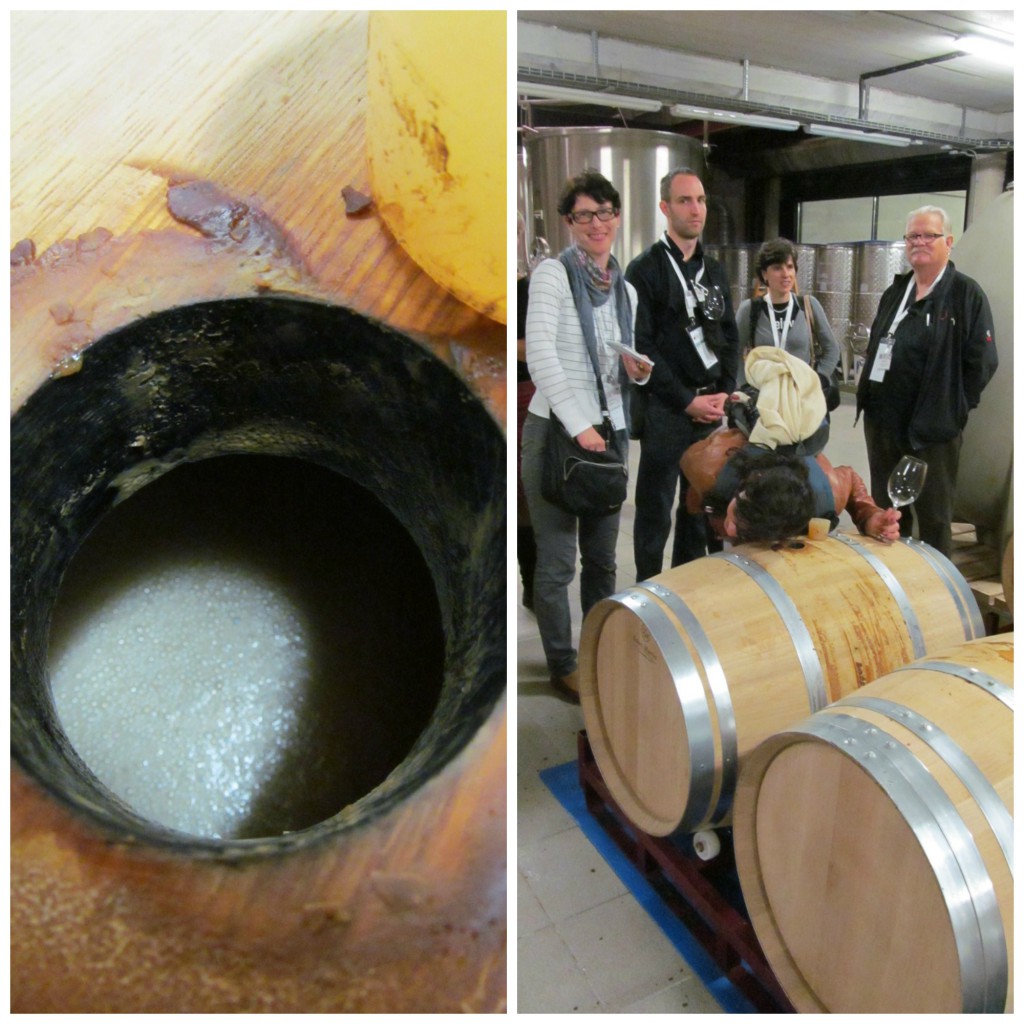 Rioja Blanco
Winemaker Simon Arina told me that the white wine is made since 2002, and that Baigorri was one of the first in the area to start making a barrel fermented white again. Now, white wine makes up 5% of production, and it is growing ever more popular; in the last year, production has risen with 40%! An interesting remark, since I encountered a different attitude to Rioja whites elsewhere. But I will come to that in another article.
At Baigorri, nothing is wasted: from the marc (the solid remains after pressing) they make a herbal liquor, called hierbas; local herbs from the vineyards are soaked in the distilled alcohol. Together with the high-quality reds, the white and the rosé, this makes an interesting range of products.
Last but not least, at Baigorri they understand the ways to reach the customer very well! At dinner, we found a voucher next to our plates, valid for a glass of wine in Logroño's famous tapas street Calle Laurel: an excellent marketing tool! Baigorri's PR team maintains an active Facebook page and Twitter account, and they speak good English and German. For tweets and posts on Baigorri, the hash tag #baigorriemotion is used.
While Baigorri might not be Rioja, Rioja is very well represented by Bodegas Baigorri. And I am lucky to have been their guest!
.