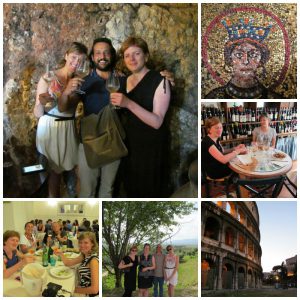 It was a weekend filled with friends, wine, good food and lots of history. And we learned the best way to explore a big, crowded city: leave it, or go exploring in the evening or the early morning! Part 1 of a story about Rome, the Castelli Romani, Lazio and wine.
On a Friday afternoon in May, Natasha and I left for Rome. We went to visit our friends Sarah and Ettore, to see something of the Lazio countryside south of Rome where they live, in the Castelli Romani, and discover some local food and wine. And of course, to see something of the many Roman sights.
Friday: dinner at Cesare
Being wine lovers who met during DWCC in Turkey, a must do in Rome was of course enjoy a dinner with good wine and food. Together with Hande and her husband Theo, whom we also first met in Turkey, Sarah, Natasha and I started the weekend with a delicious evening meal at Cesare, a highly recommended restaurant in Casaletto, a residential area west of the Tiber. It took us approximately 25 minutes to get there by tram from the centre, but it was definitely worth the ride. Cesare is one of the few restaurants in Rome were the excellent menu is accompanied by a wine list that is equally outstanding, according to our friends in Rome.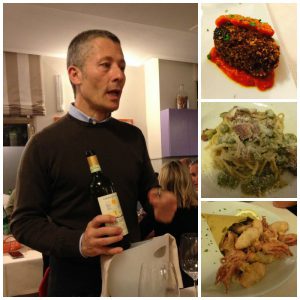 And so the wines we tasted ranged from Alsace and the Jura to two Italian natural wines: a Gavi 2007 from Cascina degli Ulivi, Filagnotti, and an orange wine, Ageno 2008 from La Stoppa. Especially the aged Gavi made a big impression on me. Subtle aromas of orange blossom, with hints of nuts and grapefruit in the mouth. Refreshing and full, truly impressive, and a good combination with the food. Ah, the food…. for starters we had gnocchi fritti al cacio e pepe (fried gnocchi in cheesesauce), calamri fritti (fried little squids) and crochette di melanzane (fried eggplant purée), that disappeared from our plates like snow before the sun (as we say in The Netherlands, ;-))

The vignarola romana (pasta with stewed spring vegetables like beans, peas and asparagus) was something to die for too, especially thanks to the baked strips of pork cheek, a typically Roman way of using pork meat. So if you are in Rome looking for really good Roman food and wine, go to Cesare in Casaletto!
Saturday: to the countryside!
Saturday was reserved for our trip to the countryside. Finally we would see ánd taste the things that Sarah is so diligently posting on Facebook and Instagram several times a week 😉 The main focus was wine of course. The Castelli Romani are known for their wines for centuries, since Rome is a thirsty city. Mainly simple whites are produced here, made from varieties trebbiano and malvasia. Think of the wines of Frascati, one of the Castelli Romani: you probably have heard of those or drank them in a Roman restaurant!
But it was not to Frascati we were headed to (not yet). Sarah and her husband Ettore took us more to the south, to Sermoneta and Cori, just outside the Castelli. Here, winemaker Marco Carpineti is famous for his blends and varietals from local grapes like bellone, greco moro, nero buono and cesanese. Southern Lazio is home to several producers, but not many have the quality of Carpineti. Bulkwines, bland Trebbiano and Malvasia meant for home consumption and tourists traps in Rome, are more of the standard here than interesting wines from local grapes. Both Natasha and I were already familiar with Carpineti's wines, since they are imported to the Netherlands by Vinoblesse. And now we were very happy to go and see were his wines came from!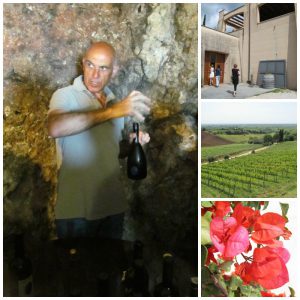 Cori has only three wine producers, of which Carpineti is the best known. The vineyards of Cori are lying on the edge of the Monte Lepini, which rise to the east of town. To the west, in the direction of the sea, the plain is filled with industrial complexes. The area at the foot of the mountains is really beautiful though, with green fields, forests, kiwi plantations, curvy roads and old picturesque towns.
We tasted Carpineti's wines in a modern tasting room in his Babylonian style winery. Next door were the barriques and tonneau Carpineti uses for the reds and some of the whites. Because of Cantine Aperte – open cellar weekend – Marco Carpineti himself was pouring wines to an enthusiastic group of visitors. Good to see that more people, among others from Denmark, enjoy these delicious Lazio wines! My favourite was the white Capolemole, made of 80% bellone and 20% greco moro. One of the new discoveries we made there was a spumante from bellone, a soft and refreshing sparkling wine with a fruity character.
At another winery, Pietra Pinta, were we went for lunch, we tasted a varietal Nero Buono, a fruity and pleasant red wine from a grape that is only found around Cori. It is used mostly in blends, but some producers make varietals. Carpineti for example produces a rosé from nero buono, Os Rosae, which was not on the tasting table, unfortunately.
Sermoneta
The wines are a good reason to explore this region, but may be even more so are the medieval hilltop towns like Sermoneta. We spend a very pleasant hour visiting this picturesque little gem with steep cobbled streets and a real castle, once owned by the Caetani family. With a guide like Ettore, Sarah's husband, you cannot but want to hear everything on the history of this town, its castle and its famous inhabitants like Lucretia Borgia. His knowledge of the history of Rome and the region is phenomenal, and he tells his stories so well that you don't want to miss one line! My recommendation: if you want to see ánd learn more of Rome or the Roman countryside, book a tour with Antiqua Tours, the company Sara and Ettore built!
Along our way from and to Rome, we also saw and occasionally visited several more of the beautiful sights of southern Lazio: the deep blue crater lakes of Nemi and Albano from a magnificent viewpoint near Rocca di Papa for example, and a stretch of an original Latin via sacra on the flanks of Monte Cavo, holy Mons Albanus in Roman times. And I mustn't forget the medieval Abbey of Valvisciolo and the idyllic ruins of the town of Nymfa, which reflect in the waters of very clear pond! Surely, we have to go back sometime to see more of this interesting and lovely region.
Colosseum at sunset
Back in Rome, after this perfect day with friends, we decided to explore some of the more well-known ancient Roman highlights. Lunch had been heavy and we did not feel like having dinner. We took a fruit salad and something to drink to the area of the Colosseum, and wandered around this impressive building and the surrounding area of the Forum Romanum and the Via dei Fori Imperiali. The sun was setting, and this magical light, combined with the beautiful weather, turned out to be thé perfect condition in which to see the ever impressive remains of Rome's long and famous past.
It was a day well spent, with several memorable highlights, and the weekend wasn't even over!
Cesare has no website, but they are open Thurs-Tues 12:30-15:00 & 19:30-23:00. Call ahead, because a reservations is needed! Address: Via del Casaletto 45; Telephone: +39 06536015


 (With a thank you to Natasha for her picture of the crochette di melanzane.)