Ever tried Verduzzo or Refosco dal pedunculo rosso? Oh, you're not interested in less well-known grapes? You only want to drink wine and have fun? Well, in both cases – either as a wine lover wanting to try every different kind of grape on the planet or as a wine drinker looking for a nice glass and a nice evening out, you're good with Pier Sfriso and Reka Haros from Sfriso Winery in the Veneto. Invite them to your house, let them bring their wines and some delicious food from their home region in Northern Italy, and you're in for a great evening with your friends. Pier and Reka call their concept #Winetime, and it is definitely time spent devoted to wine. But also to friendship, conviviality, fun and relaxation!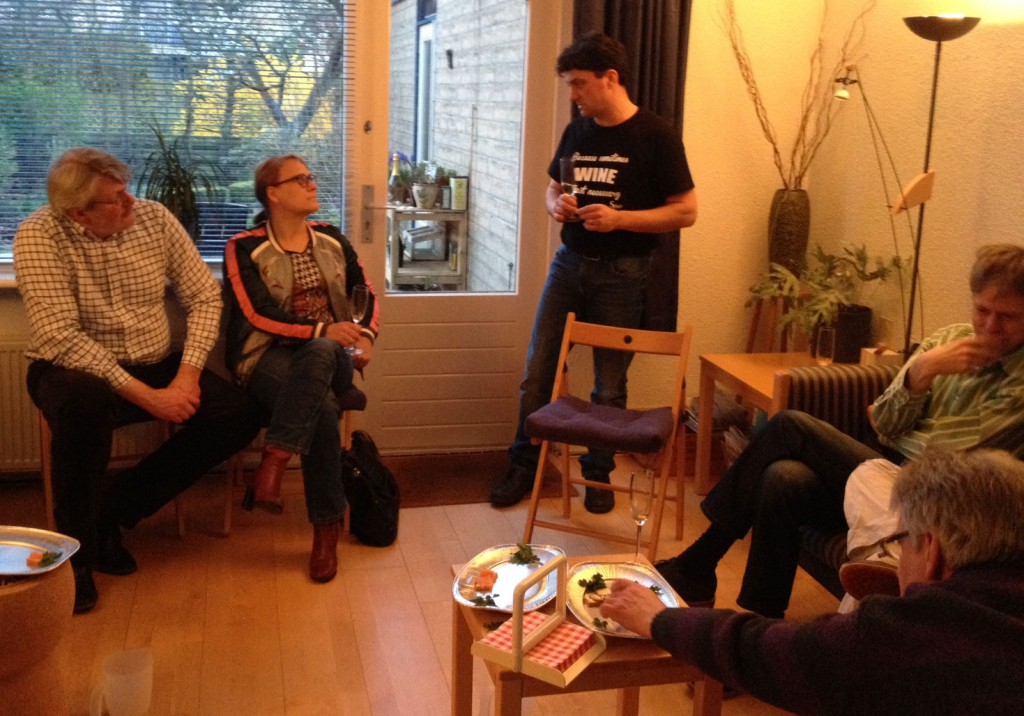 I met Reka during DWCC 2014 in Rioja, and she explained their concept to me then. I was intrigued, and found this wine version of the Tupperware party a truly innovative way to get people acquainted with different kind of wines, or with wine per se, for that matter. When I heard Reka and husband Pier were coming to the Netherlands, to Leiden, where they both went to school ánd where they met each other, I immediately invited them to come to our house to organize a Winetime event. We asked friends, friends of friends, colleagues and neighbours to take part in the event.
Pier and Reka came, with a car full of wine, salami, cheese, delicious homemade jams, risotto and several other delicious bites, and conquered our guests completely! We tasted six wines together: four sparkling and two reds. And each wine was accompanied by a matching small dish, from crostini with smoked salmon to tasty risotto with basil and tomato. Pier explained about the wines, in a very friendly and non-technical way: only if people were interested to hear about wood-aging, temperature controlled fermentation and stuff like that, he went into that.
Especially the red wines were a big hit, so much so that the Refosco was sold out before we even could buy our own case. Luckily, there was enough of the delightful Cabernet Franc San Martino, of which only 1200 bottles where produced in 2011.
Another favourite was the Verduzzo frizzante, a light sparkling wine of only 11% alcohol and tasting a lot like 'witbier'. With this Verde, as he calls his sparkling Verduzzo, Pier had tried to make a wine that you could drink in a bar easily, just like you order a white beer (witbier in Dutch). Everyone who likes beer and especially witbier, will also like this Verduzzo, according to its maker. And I think he is right! In Italy, Pier explained, a man doesn't ask for a Verduzzo in a bar, especially not if he wants to impress his girl. Verduzzo is the drink of the workers in the vineyard, the home brew, if you will. But I am glad he bottled it anyway and brings it to the #Winetime parties!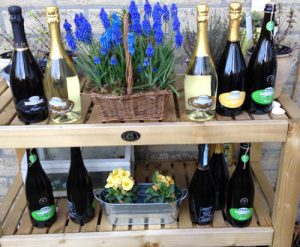 The other three wines were a very good Spumante made with Chardonnay and Pinot Blanc, a dry and good Prosecco, and a slightly sweet sparkling Muscat, called Gaio.
If you want to read more about the concept and about the wines: more information is on the website of Sfriso Winery. And don't hesitate to contact Pier and Reka. They will gladly plan a great evening with you, wherever you are in Europe!